12x Megavalanche wins.
Winner of the Mountain of Hell 2017.
4x winner of the French Enduro Series overall.
4x winner of the European Cup DH marathon.
Place of residence: Saint-Nabord, Vosges, France
Family situation: in couple with Marine and father of Tara
Job: company manager (Irwego and Abs Ride Company) and pro rider
Education: Bac S, Bachelor's degree in Management and Business in sports, Master's degree in project management and development of territories
Hobbies: Motocross enduro, ski touring and freeride, cinema, travel
Favourite film: Dikkenek Dikkenek
Music : a little bit of everything but especially rock, rap and reggae
Favourite food : pasta and especially desserts
Favourite drinks : beers Piggy
Love : eating and riding of course !
Dislike : waiting
Favourite place to ride : Vosges, Canada west coast, Chile
Most beautiful trip : Nepal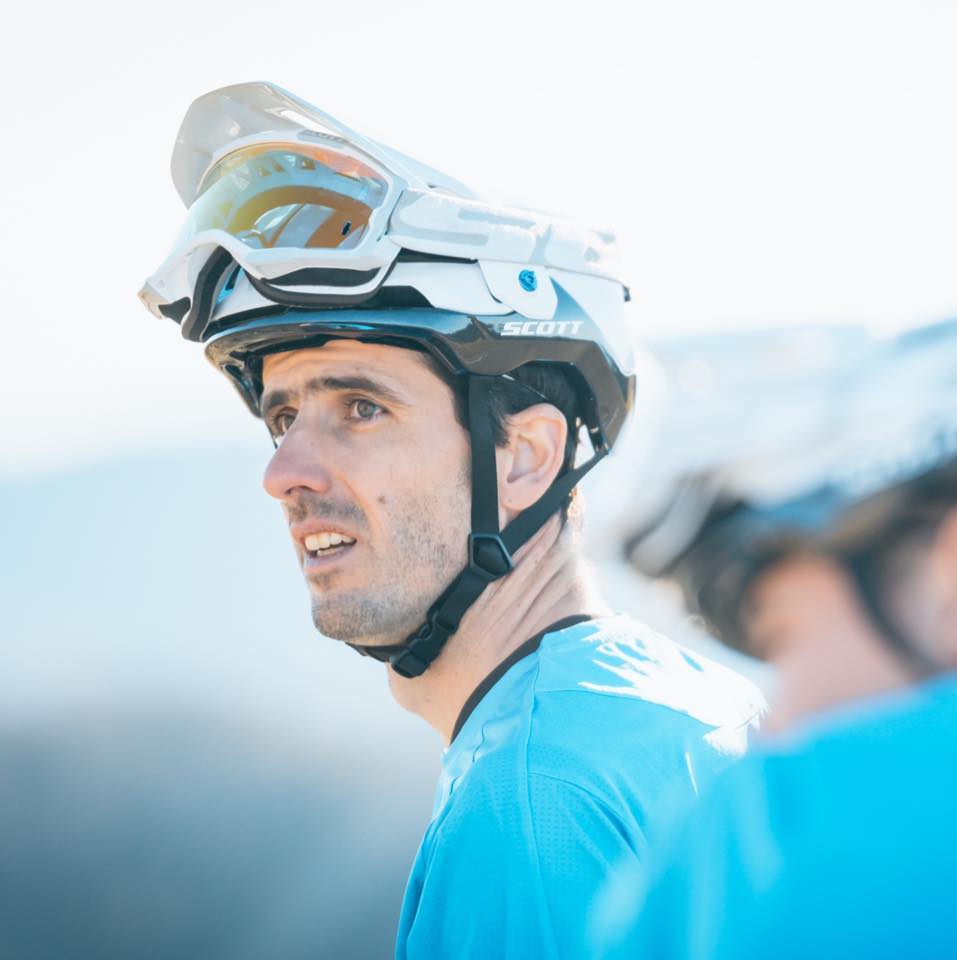 2017: Winner Mountain of Hell les 2 Alpes
2016: 6th of the Enduro World Series round#5 in Aspen/USA - 19th of the Enduro World Series
2015: Vice European Enduro Champion - 13th overall in the Enduro World Series
2014: 13th overall in the Enduro World Series
2013: 4th overall in the Enduro World Series
2009, 2011, 2012, 2015 and 2016: winner of the Alpe d'Huez Megavalanche
2005, 2008, 2010, 2011, 2014, 2015 and 2016: winner of the Mégavalanche de La Réunion
2007, 2008, 2009 and 2012: overall winner of the Enduro Series
2004, 2005, 2007 and 2010: winner of the Maxiavalanche European Marathon Downhill Cup
2010: winner of the Crankworx Open Enduro in Whistler
2008: winner of the Saab Salomon Avalanche trophy
2002
4th of the XC World Cup in Les Gets in junior
2nd of the XC French Cup in junior
2001
Winner ofthe Avalanche Cup in Morzine in junior
Multiple champion of Lorraine XC and DH
First sports:
"As a child, I first did judo. At first, it wasn't really my thing, but I persevered and even did some competitions. Then I did alpine skiing in a club. Between 2 rounds of competitions, my friends and I would go free riding in the woods, even to the point of missing the start of the races... Obviously, the freeride and enduro spirit was already part of my conception of the sport. I've dabbled in several other sports like tennis and swimming. My parents always encouraged me to do sports. But they didn't force us and let us choose what we liked.
First bike:
"Of course, like many children, I was allowed a bicycle from early childhood. I used to ride around on the terrace and do endless tricks. My first "real" bike was a Schwinn BMX with which I jumped bumps in the garden of the family home with my brother Julien.
First race:
"I started cycling competition in 1996 by doing the TNJV (National Trophy for Young Mountain bikers composed of Trial, Cross-Country, Downhill and Orienteering). My brother had been competing for a year and that made me want to do it. It was a very good school because it allowed me to try all the disciplines. This was the beginning of a long series of competitions. My parents played a great role in all this because they accompanied me, encouraged me, helped me.
So I thank them very much".
First discipline:
"I immediately had more affinity for Cross-Country and Downhill. So much so that I couldn't decide on a discipline. So I practiced both at the same time for several years. It didn't work out too badly and I was part of the French XC and DH team in cadet and junior categories.
First sponsors :
"Julien, my brother was part of the Scott France team then International. In view of my results, Scott also proposed me to join the Scott France team managed at the time by Franck Gamonet. I stayed there from 2000 to 2004. It was a great experience and a real kid's dream that came true. During this period, I tried enduro and my double competence in XC and DH was quite useful. My results caught the eye of Max Commencal who was a precursor in enduro bikes. That's when my great adventure with Commencal began in 2005... "
First outstanding victory :
"It's hard to choose because many have marked me... I have 2 that stand out: the 2004 MaxiAvlanche European Cup where before the last run we were tied with Alex Balaud in the overall standings.I have two that stand out: the 2004 MaxiAvlanche European Cup where, before the last run of the last race, we were tied with Alex Balaud in the general ranking. I won the race with a 10 second lead. In other words I beat the reference of the discipline.
and my first victory at the Mégavalanche de l'Alpe d'Huez in 2009: following a mano à mano with René Wildhaber, I won THE mythical race in front of THE legend "
My first steps in my team ...
"30 years old, it is said that it is a milestone. I decided to pass it by setting up my own structure to create a custom bike and organize a season in my image. It's also an adventure for two, since Marine, my partner, also joins the structure as team manager. After 9 great years with Commencal, I wanted to collaborate with new sponsors who were important to me and who trusted me to accompany me in this project. SR Suntour was the first brand to follow me in the adventure, followed by Scott...a return to my roots...
A few years later, it was time to move to the other side, it was time for my sporting retirement but to better manage the team and accompany young enduro talents at the highest level. Now it's time for the new generation and new projects with the team!